Maintenance is something often people forget to do. How many of us missing the time to change the oil, checking the transmission fluid level, or ensuring other parts are in a good condition? But, now, thanks to the developer because there are some car maintenance apps that help you to track the vehicle record.
Since everybody is getting closer to their phone, thus, you need to have one of the best car maintenance apps. No matter you are the iOS or Android user, there are various apps for both of them. That is why the list below contains maintenance apps which suit on those systems. So, no worry to check and install one of the apps listed.
One thing you should know that there is no better one between the iOS or Android app. It depends on the platform you use so the app can go its best so far. Also, if you have both of the phones, adjust with your specific purpose. When you are willing to take note of the car maintenance period, its cost, gas mileage record for miles calculation basis, and other things, so you need to pick one of the car maintenance tracker apps here.
List of 10 Best Car Maintenance Apps for Android and iOS
If you are wondering which one is the top car maintenance apps to have, then, you should start to see the list below. Once you put one of them on your phone, you have no need to take note of the paper anymore. It feels like having a personal assistant that reminds you what to do, when, and where it can be done. See the apps we mean:
1. Simply Auto: Car Maintenance Mileage Tracker App
For those who want to take control of their vehicle, then they are better installing this app right now. This is one of the best car maintenance apps tracking that very useful for seeing your fuel log, services, and millage. No more questioning how much you expense the fuel and when the service is due.
You can get this app via Google Play Store and App Store. It has been 0,5 million downloaders and more than one hundred vehicles recorded. Those users love to use this app because it is easy to use, fresh look, clear, and gives you an in-depth analysis. Seeing the analysis, you will also realize that this app has rich features.
If you want to keep the report for the future, you just need to back up the files on the cloud. It is 100% cloud back up that also able to multi-device sync. Besides saving your track, it is one of the best reminders among the car maintenance apps, because the app is not only noticing your service date but also control your expenses. Once it goes nearer to the cost and plans you have set, it knows what to do for you.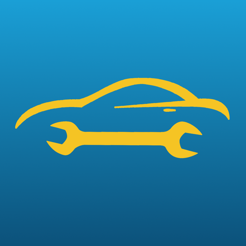 2. Drivvo – Car Management, Fuel Log, Find Cheap Gas
Save the money for your car by using this good car maintenance app. Most reviews said that Drivvo app is an effective and efficient app. It is a good app to control and manage your budget for vehicles. More than that, it also gives many reports as you wish, such as mileage tracking, service due date, fuel consumption, and others.
Surprisingly, the developer keeps updating the app periodically. So, you always get the latest feature which absolutely needed. Don't worry about the data, they keep them for you. Whenever you want to compare your expense, it will respond as you wish through the cart and other statistic views which is very easy to understand.
Another advantage is you are able to restore data from the other apps, like Fuelio, aCar, My cars, and many more. It makes your view more complete about vehicle management. You don't only see how much you have spent, and things related to the service, but also even for the installment of financing is allowed too. By seeing this, are you still wondering not to install this app?
3. Car, Motorcycle, or Fleet Maintenance Gas Log
If you are looking for more car maintenance apps, then we have Car, Motorcycle, or Fleet Maintenance Gas Log app here. This app is known as "AUTOsist-car" in the Google Play Store and App Store. You probably think that the app is just the same as the others. Hold on, this one is good for those who concern about green life.
By using this app, you can attach receipts or other documents by taking a picture. Use your mobile device and scan the receipt, then it will be recorded to its web portal. No need paper or cluttering your pocket in the future. After that, let the app manages your maintenance period, monitor gas or fuel consumption, and things for your fleet business.
Seeing from the testimonials, most of its lovers using this app for their heavy fleets, such as truck, tractor, and something like that. So, if you think the car maintenance apps are only for a family car, a city car, or those kinds, then you better change that opinion right now. Because AUTOsist-car is available to give a hand for any kind of vehicle you use.
4. CARFAX Car Care
This app helps you to make a better for your car. You will be the first person to know what happen in your vehicle. It starts from its reminder feature, you will always know when to bring the car to the service station. While you are doing the maintenance, you can also track the history at the same time. So, you won't miss a single important thing to do.
By doing that, you are able to make the best decision. If you need more considerations, just open the record from the previous condition. There you will find the things inside the car. The app helps you automatically without having much time finding the report or data you need. CARFAX Car Care really values your time. Thus, it is best to get a fast track.
The bonus from this app is you can get the recommended and trusted service station near you. No need to be in doubt because all stations are based on verified reviews. So, if you want to try a new place, just ask this app then it will provide you the best answer. Nothing can do the great thing like this from the other car maintenance apps.
One thing for sure, if you just start to choose one of the car maintenance apps for Android and iPhone, this is worth to try. Very handy, easy to use, helpful, and of course it is free!
5. Car Maintenance
A healthy car will give you a pleasant trip. That is how this app supports your convenience. It never wants you to have any bad experiences in driving, whether alone, with family, or for a business need. This app really understands what to do in order to keep your driving comfort.
If you want to know about the app, let's start with its interface. The look is so simple and clear. You can easily monitor your car condition, such as fuel consumption, reparation list, until the remainder of tax and insurance, you are responsible to be remembered. Also, this app is able to assist you to find local workshop information: phone number, location, and navigation.
What kind of services you can get more? Just like the other car maintenance apps for Android do, this app also tracks your oil, timing belts, battery, and regular service or things you need to change over time. Download now because it is very recommended. Try yourself to make your own vehicle in a good condition. There is nothing more satisfied than keeping things working well for our activity.
6. Mileage Tracker, Vehicle Log Fuel Economy App
Do you want reliable car maintenance apps for Android? We recommend you install this app on your android phone as one of your references. This app which developed by autolog.app is very unique. Of course, you can get the tracking and reporting like the other apps do, such as gas mileage, fuel calculator, and other reports. So, you don't have to worry about those basic things.
But, one thing that unique here is its extremely accurate tracking. It makes the users gave five stars for this app. Even though you are not a tech-savvy person, you won't feel difficult to start using the app for the first time.
Talking about the report, it is also friendly for data dummies. You don't have to be a master in reading the diagram or any statistic view. It helps you a lot to understand what happened on your vehicle through its simple explanation. Moreover, it also supports to import the report from the app to other formats, such as PDF/XLS/CSV version. The app really makes tracking for any purpose as simple as you want.
7. MyFuelLog2 – Car Maintenance Gas Log
Get the reminders in the palm of your hand with MyFuelLog2 app because it helps you to remember about the trips, consumptions, expenses, and things to do with your car. This is a great app for those who love detailed reports. If you compare to the other top car maintenance apps for Android, then this one is the best to show details.
The reviewers said that the app is good for both two-wheelers and four-wheelers. They had no problem using this app so far. Thus, no wonder when most of them upgraded the app into the premium version. Finally, they got more complete reports and more features.
Even though the report will be very detailed, you won't be confused about seeing this. The developers have designed the result to be easy to read. Moreover, you can customize the main screen by selecting the logo and the picture of your car so it would feel more personal.
Don't worry if you download for a free version, you still get complete services besides the basic reports, for example, visualization from Google map, switching currency when doing fill-ups, importing data from other apps, producing tax form in PDF format, and many more.
8. Fuelio: Gas Log, Costs, Car Management, GPS Routes
The reason why we put Fuelio as one of our recommended car maintenance apps is that it achieved the Best Android Apps 2020. As the car management app, the interface is very clear compared to a similar app. So, it is very easy to use, even though you have no experience with the other maintenance app before.
One thing that makes you comfortable using this app is its customized features. There are some instructions and hints you can follow, so you can easily adjust the app as you need. Here are several features you might find inside the app: vehicle management costs, fuel usage statistics, chart report, dropbox backup, reminders, mileage log, and many more.
When you upgrade to the pro version, then here are the advantages: auto-backup to Dropbox and Google Drive, shortcut for faster fill-ups adding, cost module for cost tracking, cost summary based on category, and others. As the organizational tool, we might say this app is very impressive. To get to know more about its features, better you install the app and find out by yourself.

9. My Car Maintenance Service Pro
If you are looking for not a very serious app, then My Car Maintenance Service Pro app is the answer. The developer, saycoder, did a very good job of designing the interface. When we are saying the app is not really serious, it doesn't mean the app is useless. Contrarily, it is really helpful to take care of your vehicle.
Maintenance monitoring has never been easier than using this app. If you already had this app on your phone, then just wait until it reminds you when to take the car for regular service. The alert always comes before the due date, so you can set the estimated usage before it reaches the limit. We think that it is one of the impressive car maintenance apps!
We found one unique thing from this app which is the parking function. It uses GPS to remember when you park. Just push one button, then it will guide you to the parked car easily. No more walking around to find where you park. Never again forget where the position is. Also, you are able to send the location by SMS or other messenger apps. So, in case you want someone to know where you are, then it is as easy as sharing the exact location. For your information, this feature is really useful for your safety too.
10. CarG – Car Management
The last of the best car maintenance apps we suggest is CarG app, the car management tool to help you in monitoring your fleet condition. You should thank PocketReg developer who made this app looks unique. First, this app is very simple. Then, the features are cute through its icons without losing the essence.
Looking at the newest version, the developer invested so much to make the app better. Now, the app bugs were already fixed so it would be more comfortable to use. The interface was also enhanced. You can export data from between devices too. Last but not least, it is good to know that free from any kind of ads.

So, those are all about the 10 best car maintenance apps for Android or iPhone you should check and select one of them. But, if you put a heart on more than one, then it is okay too. Probably one app can complete each other apps to fulfill your need. One thing for sure, the app is really necessary to be inside your phone. Avoid missing maintenance dates and things to do by having a personal reminder in your hand.
Take a look at these popular GPS Apps on CarBibles for your smartphone to use whether you are driving in your car.
Also Read :
I'm is an owner of Venostech.com, blogger, Android and technology enthusiast. Individual who are educated in the IT and like to write according my scope.